The panoramic flower gardens of Shikisai-no-oka provide spectacular views across fifteen hectares of land on Oka-no-machi Biei. It is a paradise of seasonal blossoms from spring through to fall, in which several dozen different species of flowers and grasses flourish. Why not come and enjoy the beautiful fragrance of the blossoms amid spectacular panoramic scenery?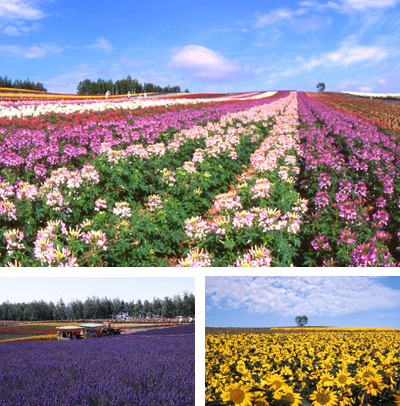 Opening hours by season
January to April

9:10~17:00

May/October

8:40~17:00

June to September

8:40~17:30

November to December

9:10~16:30
Corporate Outline
| | |
| --- | --- |
| Facility Name | Panoramic Flower Gardens Shikisai-no-oka |
| Company Name | With You Co., Ltd. |
| Address | Shinsei Dai-3, Biei-cho, Kamikawa-gun, Hokkaido 071-0473 Japan |
| TEL | 0166-95-2758 |
| FAX | 0166-73-3993 |
| President | Hiroki Kumagai |
| Number of Employees | 40 (including part-time workers) |
| Car Park | Space for 20 large buses and 100 private vehicles. |
Entrance Fee (July to September)
Elementary school, junior high school students 300yen
high school students or more 500yen
Elementary school age kids and under are free.

Admittance to each ride and the Alpaca Farm all require entrance fees.

Enjoy the colorful flowers and spectacular views in the Shikisai-no-oka flower garden while riding around Shikisai-no-oka and the surrounding areas on the popular Norokko and on carts and buggies.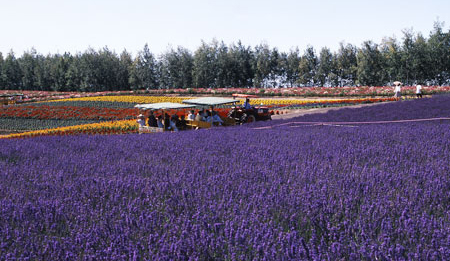 The Shikisai-no-oka Norokko (tractor bus) is a very popular ride that takes a slow run through the most impressive course in the vast Shikisai-no-oka Park, which is filled with the rich fragrance of flowers and offers spectacular views of the hills, Mt. Daisetsu, and the flower garden. It stops once during the ride for taking photographs against a background of breathtaking flowers.
Time Required: 15 minutes Fare:Elementary school, junior high school students 300yen, high school students 500yen or more * There is one photograph stop en route.
Buggies
The most attractive part of this ride is the feeling of freedom provided by self driving.
Course: One circuit of Shirakaba-batake (White birch garden) Fare: 500yen for a single-seater
Carts
The most attractive part of this ride is that the rider is free to drive anywhere within the flower garden.
Capacity: Four people Fare: 2000yen for fifteen minutes (Private rental possible)

The snow turns the flower garden into Snowland during the winter period. Snowland is designed so that even first time visitors can enjoy the snow and nature while riding snow rafts, snowmobiles and other such vehicles.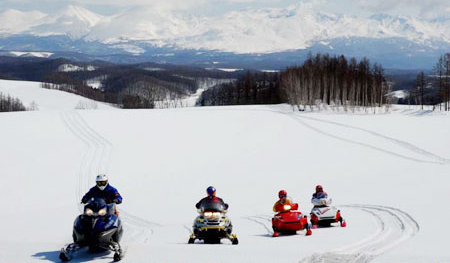 Snowmobiles are exhilarating vehicles that are easily operated even by beginners to provide exciting runs through vast snow fields while enjoying the snow and nature.
Early December to early April the following year Open: 09:00 to 16:00(Closed on 31st December and 1st January) March Open: 09:00 to 16:30 *Subject to change depending on the amount of snow cover.
Other rides
Snow Raft: 800yen per person
Special cource 1,000yen per person

Snowmobile: Regular fare
--
One circuit (Approximately 1km)
Thirty minute course
Single-seater
1,200yen
5,600yen
Two-seater (Group)
--
6,800yen
Snowmobile: Reservations required for the long tours.
・Approximately 10,000yen for 10km is an estimated standard (For three or more people.)
・The fare varies in accordance with skill levels and course.
・Lunch is not included.
・Basic driving instructions are provided prior to departure.
| | | | | |
| --- | --- | --- | --- | --- |
| 5km | 7,700yen | -- | -- | Approximately Thirty minute |
| 10km | 18,500yen | 14,900yen | 12,500yen | Approximately 1hour |
| 20km | 30,500yen | 24,500yen | 22,100yen | Approximately 2hour |
| 30km~40km | 42,500yen | 38,900yen | 34,100yen | Approximately 2.5hour |
| | | |
| --- | --- | --- |
| Morning Departure | 9:00 | 10:00〜12:00 |
| Afternoon Departure | 12:00 | 13:00〜15:00 |